About Princess Diana:
(Diana Frances Mountbatten-Windsor; née Spencer; 1 July 1961 – 31 August 1997)
Princess Diana was an iconic figure of the late 20th Century. During her life she was often said to be the most photographed person, appearing on the cover of People magazine more than anyone else. She epitomised feminine beauty and glamour. At the same time, she was admired for her groundbreaking charity work; in particular her work with AIDS patient,s and supporting the campaign for banning landmines. Married to Prince Charles in 1981, she received the title of "Her Royal Highness Princess Diana of Wales" She is the Mother of Prince William and Prince Harry 2nd and 3rd in line to the throne respectively.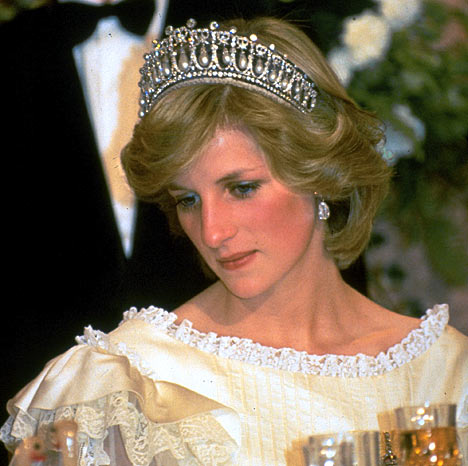 Diana was born to an aristocratic family who links to the Royal Family. Her father was Edward Spencer, Viscount Althorp. Edward Spencer was a direct descendent of Charles II.. Her mother was Frances Viscountess Althorp. Her mother was distantly related with the Queen Mother, and was also of American descent. When Diana was young, her parents divorced with her father winning a bitter battle for custody of the children. Diana grew up in the family home of Park House, before moving to Althorp in 1975. Diana did not shine as a student, but did well in music and ballet. When she met her future husband, Diana was working as a part time assistant in a nursery school in London.
Diana was born in the late afternoon on July 1, 1961, in

Sandringham, Norfolk

.

She was the fourth of five children of the

Viscount

and

Viscountess Althorp

(née Frances Roche, later Shand Kydd).

The

Spencer family

was hoping for a male heir to carry on the Spencer title (their third child, a boy, died soon after birth).

The Spencer family is one of Great Britain's oldest and most important families, closely allied with the royal family for several generations.

As the family was expecting a boy, no name was chosen for a week, until they settled on Diana Frances, after a Spencer ancestress and her mother.

Diana has three siblings:

Sarah

,

Jane

, and

Charles

;

[

and was baptised at Sandringham church; her younger brother, Charles, was baptised at

Westminster Abbey

with

Elizabeth II

as principal godparent.

Diana also had an infant brother, John, who died a year before she was born.

According to

Andrew Morton

's biography of Diana, the infant John Spencer was so deformed and sick he only survived 10 hours after his birth.

The desire for an heir added strain to the Spencers' marriage, and Lady Althorp was reportedly sent to

Harley Street

clinics in London to determine the cause of the "problem".

The experience was described as "humiliating" by Charles Spencer, the current earl: "It was a dreadful time for my parents and probably the root of their divorce because I don't think they ever got over it."

Diana grew up in Park House, which was situated near to the

Sandringham estate

.

Diana was only seven years old when her parents were separated.

Her estranged mother, Frances, had an affair with

Peter Shand Kydd

.

In Morton's book, he describes Diana's remembrance of Lord Althorp loading suitcases in the car and Frances crunching across the gravel forecourt and driving away through the gates of Park House.

Diana lived with Frances in London during her parents' separation, but during the Christmas holidays by the end of the year, Lord Althorp refused to let Frances to return with Diana to London. Shortly afterwards, Lord Althorp eventually won custody of Diana with support from his mother-in-law,

Ruth Roche, Baroness Fermoy

.

Diana was first educated at Riddlesworth Hall near

Diss

, Norfolk, and later attended boarding school at

The New School at West Heath

,

in

Sevenoaks

,

Kent

. In 1973, Lord Althorp began a relationship with

Raine, Countess of Dartmouth

, the only daughter of Alexander McCorquodale and

Barbara Cartland

.

Diana received the title of

Lady

after her father inherited the title of

Earl Spencer

on 9 June 1975. Lord Spencer and Lady Dartmouth were married at

Caxton Hall

, London on 14 July 1976. As Countess Spencer, Raine was unpopular with Diana.

Diana was often noted for her shyness while growing up, but she did take an interest in both music and dancing. She also had a great interest in children. After attending finishing school at the

Institut Alpin Videmanette

in Switzerland, she moved to London. She began working with children, eventually becoming a nursery teacher at the Young England School.

Diana had apparently played with Princes

Andrew

and

Edward

as a child while her family rented Park House, a property owned by Elizabeth II and situated on the

Sandringham Estate

.
In 1981, Diana married Prince Charles. Diana was 13 years the junior, at an age of just 20, Charles by contrast was 33 at the time of the wedding. The general public soon warmed to the innocence and beauty of Princess Diana, and the wedding was watched by over 1 billion people world wide. During their marriage they had two sons, Prince William and Prince Harry. However, in the mid 1980s, strains started to appear in the marriage, and under much publicity the marriage broke up leading to a divorce in 1992. During this period Diana is said to have suffered various health problems such as bulimia and depression.
As Princess of Wales, Diana was expected to take part in various official engagements, such as, opening of hospitals. This provided a natural outlet for her to become involved in various types of charitable work. Her natural sympathy and oneness with patients was much admired. In 1987, Princess Diana was one of the first well known celebrities to be photographed with a victim of AIDS. This was important in changing attitudes to the disease. At the time, many thought the disease could be contacted by touch alone. Another of her high profile charities, was her involvement in the campaign to ban landmines. In January 1997, she visited mine fields in Angola to inspect the clearing of landmines. After her death, the Ottawa treaty, was signed banning the use of anti-personnel landmines. Many agree that her support and role in the campaign played an important role in influencing this decision.
Shortly before her death, June 18th Princess Diana met with Mother Teresa. Both admired each other. Mother Teresa always said "Diana is my daughter." With utmost humility Diana said "I am a very, very small Mother Teresa.
Despite the pervasive press intrusions into her private life, Diana remained very popular because people could identify with her. Her hands on approach to charity work gave the impression of a new type of Royal, who was no longer so remote.
"everyone needs to be valued. Everyone has the potential to give something back if only they had the chance."
Diana died on 31st August, 1997, in a car crash involving Dodi Al-Fayed. (see last moments of Princess Diana) It was said they were being chased by paparazzi at the time the fatal accident. Although, the inquest noted that the driver was also under the influence of drugs and drink. Controversy still surrounds her death, with a further inquest still underway.(3) The death of Diana had a profound impact on the British public and those in other countries. It led to an unprecedented outpouring of grief and sympathy, for a person people had taken into their hearts. Over 1 million bouquets of flowers were laid at Buckingham Palace. Her funeral was watched by countless millions around the world. Her final resting place was her family home of Althorp.