Birth Date: 27 Oct, 1988.
Profile
Meher Malik spices up
Egyptian belly dancing
with Bollywood moves. Having spent 17 years in the Middle East, she has mastered the dance that she says was once
the domain
of the high priestesses of ancient Upper Egypt.Meher performs the Egyptian Belly
Dance with
grace and passion. She is the first one to establish a school of
Belly Dancing
in Delhi. She received huge recognition after her performances on India's Got Talent 1 (an Indian talent discovery show). In July 2011, Meher Malik and her students were selected on Hrithik Roshan's
Just Dance
Reality Show aired on Star Plus.
Mini Biography:
Meher is a professional belly dancer who has trained in the art in London, Paris and Egypt.She also teaches
belly dancing
and runs India's largest belly dancing institute- Banjara
School of Dance
.
She has lived in the Middle East for the past seven years and has grown up watching Belly dancing. Later, she trained in Belly dancing in London, Paris and Egypt. She also runs India's biggest belly dancing company –Banjara School of Dance. She has also learnt the basics of Bharatnatyam for a year or two during childhood. She always wanted to be a
fashion designer
during school days and had got through the NIFT exam, but could not adjust to the way people functioned there, so she gave up. She fulfilled her dreams by starting Banjara design studio where she
designs
the gypsy costumes and designs her own costumes for her
performances
.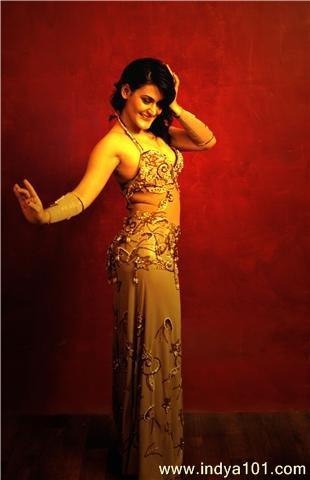 She is also fond of tattoos. She got her first tattoo done because her then boyfriend was a
tattoo artist
and wanted to practice on someone. After that she got addicted and got another one on her hip that of a flower. Later, she got a peacock drawn on her hand and a star on her pelvic bone. She also has tattoos on both her ears, a heart on the right and music symbol on the left. Besides
dancing
, she enjoys swimming,singing andplaying the piano.
Solo Performance
A Solo Performance includes Meher's 4 Performances of 5 min each
Client should take care of the following -
Travel - 1 Business
Class
Return ticket from Delhi
Stay - 1 Room in a 5 Star
Sound System of High Quality
The stage should be very well uplifted with audience only from the front and tight security at all times
Local female assistant during the performance.
Group Performance
6 Performances of 5 min each with Meher and 4 female belly dancers
Client should take care of the following -
Travel Requirements - 1 Business Class, 4 Economy class Flight Return
tickets
from Delhi
Stay and Meal - 1 Room in a 5 Star, 2 Twin Sharing Rooms + Meals
Sound System of High Quality
The stage should be very well uplifted with audience only from the front and tight security at all times
Local female assistant during the performance