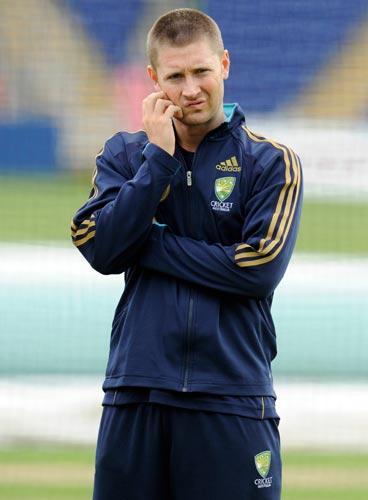 Full name Michael Clarke
Born April 2, 1981, Liverpool, New South Wales
Current age 29 years 293 days
Nickname Pup, Clarkey
Playing role Middle-order batsman
Batting style Right-hand bat
Bowling style Slow left-arm orthodox
Height 1.78 m
Major teams Australia, Hampshire, New South Wales
Michael Clarke Profile:
As a young man Michael Clarke could do anything with the bat, but he has matured into one of the game's most professional, reliable and focussed players. Clarke learned a year into his Test career that he had to shed the flourishes that made him a golden child in order to shine consistently at elite level. Breathtaking centuries on debut away and at home stamped him as a shot-maker to savour, but he is now a calculated player who is his country's most effective run-maker in the five-day game.
While he could clear boundaries and loft regular fours as a youngster, Clarke's main modern method is to find gaps by caressing the ball along the ground, although he will pull off the front foot when settled. In Tests he has the potential to develop into a master by the end of his career, having taken over the team's No.1 rating from Ricky Ponting in 2009, even though he has batted at five in most appearances. At one-day level he is extremely accomplished and a highly valued member, but in Twenty20 a lack of power stands out along with astute captaincy.
Since Shane Warne, Clarke has been Australia's A-list cricketer, a boy from Sydney's working-class west who became a celebrity thanks to his ready smile, large endorsements and a high-profile engagement to a model. After the relationship broke down early in 2010, Clarke displayed his impressive ability to compartmentalise his life by scoring a hundred at his first chance in New Zealand. Proving he could deal with such a taxing situation and retain a clear head in the middle is one reason why he has been lined up to replace Ponting as leader whenever he retires.
In the field Clarke's throw is as fast and accurate as anything in the game, and he can winkle out batsmen with his disarming left-arm spin. Mostly he is known for his immaculate driving and slicing of the ball through impossible angles. The next step towards fulfilment is a full-time move to No.3, another promotion which depends on Ponting's longevity.
Fast Facts
* He was awarded the 'Allan Border Medal' in 2005 and 2009.
* He shares an Australian fifth wicket record partnership (220) with Andrew Symonds in ODIs.
* He was part of Australia's WC winning squad in 2007.
* He is currently the only Australian batsman in history to score a century on both home and away debuts.
* He is the 12th Australian to score a hundred in the first innings on test debut.
* He won the Australian Man of the Series in the 2009 Ashes.
* He dismissed India's last three batsmen in a single over on the fifth day of a test in 2008 helping Australia to a win.
* He became the first batsman to score a 200 in the shorter format in Lanchashire history.
* He was ICC 'Test Player of the Year' in 2009.
* He was Wisden 'Cricketer of the Year' in 2010.
* He has been named Australia's T20 captain after Ponting officially retired from international T20s.
Michael Clarke Batting, Fielding and Bowling
The above stats are as per date of this post.
Michael Clarke Career:
Test:
2004-2011
ODI:
2003-2011
T20:
2005-2010
Michael Clarke Test Matches
Debut:
Australia Vs India at M. Chinnaswamy Stadium, Bangalore – Karnataka – Oct 06, 2004
Last played:
Australia Vs England at Sydney Cricket Ground (SCG), Sydney – Jan 03, 2011
Michael Clarke ODI Matches
Debut:
Australia Vs England at Adelaide Oval, Adelaide – South Australia – Jan 19, 2003
Last played:
Australia Vs England at Melbourne Cricket Ground (MCG), Melbourne – Jan 16, 2011
Michael Clarke T20 Matches
Debut:
Australia Vs New Zealand at Eden Park, Auckland – Feb 17, 2005
Last played:
Australia Vs Sri Lanka at W.A.C.A. Ground, Perth – Western Australia – Oct 31, 2010
More updates about Michael Clarke, Michael Clarke profile, Michael Clarke biography, Michael Clarke history, Michael Clarke cricket record, Michael Clarke highest score, Michael Clarke 100s, Michael Clarke 50s, Michael Clarke fastest century, Michael Clarke 50, Michael Clarke fastest 100, Michael Clarke pictures, Michael Clarke ranking, Michael Clarke batting, Michael Clarke bowling, Michael Clarke fielding, Michael Clarke average, Michael Clarke wife, Michael Clarke family, Michael Clarke children, Michael Clarke IPL, Michael Clarke CLT20, Michael Clarke T20, Michael Clarke ODI, Michael Clarke Test will be shared soon. You can also share your comments about Michael Clarke.