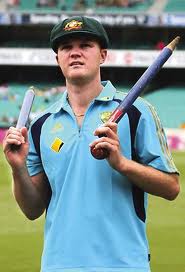 Full name Doug Bollinger
Born July 24, 1981, Baulkham Hills, Sydney, New South Wales
Current age 29 years 180 days
Nickname Eagle
Playing role Bowler
Batting style Left-hand bat
Bowling style Left-arm fast-medium
Height 1.92 m
Major teams Australia, Australia A, Chennai Super Kings, New South Wales, Worcestershire
Doug Bollinger Profile:
Doug Bollinger is a left-arm fast bowler loaded with character more suited to cold beer than high-quality champagne. Early in his maiden Test spell on his SCG home ground, having promised to give 150,000%, he waved animatedly at Ricky Ponting to demand a short-leg. The crowd cheered every grimace throughout a welcome that included two wickets – and has not stopped yelling. He left that match with an enhanced reputation and the nickname "Doug the rug" after receiving some help in manufacturing golden locks from a previously barren crown.
Since the international bow in 2009, Bollinger has become an important member on and off the field for Australia. Opposition batsmen don't like his angle or swing and his team-mates love his earthy character. He makes them laugh, often on purpose, but the funniest moment of his short time with the squad came from a mistake. Having taken a wicket in New Zealand, he grabbed his shirt, wanting to kiss the national coat of arms, but slobbered on the beer logo instead.
It took Bollinger until his mid-20s to develop into one of the country's best bowlers after being happy running around in Sydney park cricket. A raw action took time to develop, but he has operated smoothly over the past year. Chris Gayle did not know who Bollinger was before the 2009-10 Test series, but he quickly learned, falling to him twice in the series.
A maiden five-wicket haul came against West Indies in Perth and he followed up on the tour of New Zealand with an impressive 5 for 28 in Wellington. The performances showed not only that he was an able member of the squad, but that he could work in partnership with Mitchell Johnson, another left-arm fast man. In 2009 he also earned his first three one-day internationals and struck oil in Abu Dhabi with 5 for 35 in his second match. He quickly became a fixture in that side too.
The 2007-08 season was one of real change for Bollinger, who picked up his initial Cricket Australia contract, his first position in an Australia touring party and a wife. Just as he was preparing to depart on honeymoon, Bollinger received word that he was a late addition to the Test squad to tour the West Indies. He was unlucky not to be in the original group after topping the Pura Cup wicket tally with 45 at 15.44, an especially good return considering he missed the last three games of New South Wales' successful campaign with a broken foot. He had been instrumental in getting the Blues to the decider, grabbing 12 wickets in an innings victory over Tasmania and picking up ten victims in a win against Western Australia.
The previous summer had provided Bollinger's breakthrough in the Pura Cup when he became the Blues' second-leading wicket-taker with 37 victims at 28.37. That season finished with 5 for 73 in the first innings of the final against Tasmania and his success helped earn a contract at Worcestershire for 2007. He spent the 2006 winter at the Academy, by which stage he had already become the fourth man in Australia's one-day domestic history to claim a hat-trick.
Fast Facts
* Bollinger became the fourth man in Australian domestic one-day history to take a hat-trick in the 2004-05 season.
* He was New South Wales' second leading wicket-taker with 37 scalps in the 2006-07 first class season.
* Doug took 45 wickets at an average of around 15 in the 2009-10 first Class season.
* He took 5 wickets against Pakistan in only his second ODI which earned him the 'Man of the Match'.
* Bollinger became the fourth Australian to play for the Chennai Super Kings.
Doug Bollinger Batting, Fielding and Bowling
The above stats are as per date of this post.
Doug Bollinger Career
Test:
2009-2010
ODI:
2009-2011
IPL:
2010-2010
CLT20:
2009-2010
Doug Bollinger Test Matches
Debut:
Australia Vs South Africa at Sydney Cricket Ground (SCG), Sydney – Jan 03, 2009
Last played:
Australia Vs England at Adelaide Oval, Adelaide – Dec 03, 2010
Doug Bollinger ODI Matches
Debut:
Australia Vs Pakistan at Dubai Sports City Cricket Stadium, Dubai – Apr 24, 2009
Last played:
Australia Vs England at Melbourne Cricket Ground (MCG), Melbourne – Jan 16, 2011
Doug Bollinger T20 Matches
Debut:
Chennai Super Kings Vs Rajasthan Royals at MA Chidambaram Stadium, Chennai – Apr 03, 2010
Last played:
Chennai Super Kings Vs Mumbai Indians at Dr DY Patil Sports Academy, Mumbai – Apr 25, 2010
Doug Bollinger CLT20 Matches
Debut:
New South Wales Blues Vs Diamond Eagles at Feroz Shah Kotla, Delhi – Oct 09, 2009
Last played:
Chennai Super Kings Vs Warriors at New Wanderers Stadium, Johannesburg – Sep 26, 2010
More updates about Doug Bollinger, Doug Bollinger profile, Doug Bollinger biography, Doug Bollinger history, Doug Bollinger cricket record, Doug Bollinger highest score, Doug Bollinger 100s, Doug Bollinger 50s, Doug Bollinger fastest century, Doug Bollinger 50, Doug Bollinger fastest 100, Doug Bollinger pictures, Doug Bollinger ranking, Doug Bollinger batting, Doug Bollinger bowling, Doug Bollinger fielding, Doug Bollinger average, Doug Bollinger wife, Doug Bollinger family, Doug Bollinger children, Doug Bollinger IPL, Doug Bollinger CLT20, Doug Bollinger T20, Doug Bollinger ODI, Doug Bollinger Test will be shared soon. You can also share your comments about Doug Bollinger.