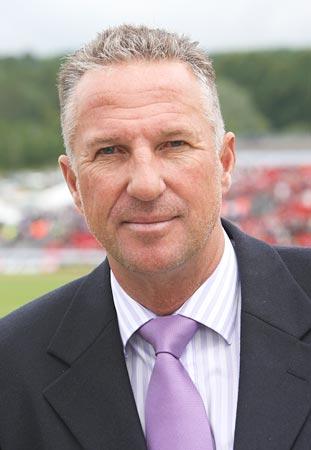 About Ian Botham:
Ian Terence Botham OBE, (born November 24, 1955 in Heswall, Cheshire) (nicknamed "Both", "Beefy", "Beef" or "Guy the Gorilla") is a retired England Test cricketer. He was a genuine all-rounder who played for three county teams but most significantly for Somerset CCC.
In a Test career spanning 15 years from 1977, he played in 102 matches, scoring 5,200 runs at 33.54; taking 383 wickets at an average of 28.40; and holding 120 catches. In first-class cricket, he scored 19,399 runs at 33.97, took 1,172 wickets at 27.22 and held 354 catches. He was a good limited overs player and was elected a Wisden cricketer of the year in 1978.
Botham has a number of notable all-round achievements. In 1980, playing against India, he became the first player to score a century and take ten wickets in a Test match (Alan Davidson was the first to score 100 runs and take 10 wickets in a Test but that did not include a century). Of the players who have accomplished the "all-round double" of 2000 runs and 200 wickets in Test cricket, Botham did so in fewest matches, needing just 42 while the next best is 50 achieved jointly by Imran Khan and Kapil Dev.
Compared with many of cricket's greatest players, most of whom were specialists, Botham's averages are fairly ordinary but they hide the fact that for the first five years of his Test career, his form with both bat and ball was outstanding. His reputation was of playing to extremes and so, if he played well, he could seem to win a match on his own. He was renowned as a big-hitting batsman, but with a surprisingly classical technique, and as a fast-medium paced swing bowler who could be very effective indeed when atmospheric conditions favoured his style. In his later career after a back injury, his pace diminished to no more than a gentle medium, but he retained the knack of taking wickets, largely because he still had the ability to "move the ball in the air". As Fred Trueman often said, "the outswinger is the ball that gets the great batsmen".
Ian Botham was and remains a "larger than life character" and was very popular among many England sport fans. But, having said that, he also had his critics and there are many cricket fans, English as well as Australian and others, who insist that Botham was over-rated. This view is largely based on his lack of success against West Indies, which was the dominant team in cricket during Botham's career. Although Botham's performances against Australia in 1981 were spectacular, Botham did not produce anything like the same results against the more powerful West Indies team.
On the field
A talented footballer as well as cricketer, Botham had to choose very early in his career whether to play professional football or cricket. Later on, to get fit after an injury, he played for Scunthorpe United, a professional football team.
Botham started his first-class career with Somerset in 1974. He left Somerset in 1985 as a protest against the sacking of his friends Viv Richards and Joel Garner, and played for Worcestershire between 1986 and 1991. In 1992, he joined County Championship newcomers Durham before retiring midway through the 1993 season, poignantly after Durham's match against the touring Australians. He also played for Queensland although his time there was tarnished by incidents in an aircraft, which also involved Allan Border and a female passenger.
He made his Test debut for England on 28 July 1977 in the Third Test against Australia . He played 102 Tests, and was England captain for 12 Tests in 1980 and 1981. However, he was unsuccessful in that role, with 8 draws and 4 losses although in his defence, 9 of his matches as captain were against the best team of the time, the West Indies.
His career coincided with that of the great New Zealand all rounder Richard Hadlee as well as those of Imran Khan and Kapil Dev.
Records
Ian Botham holds a number of Test records as an all-rounder, including being the fastest (in terms of matches) to achieve the "doubles" of 1,000 runs and 100 wickets, 2,000 runs and 200 wickets, and 3,000 runs and 300 wickets.
He was the first player to score 5,000 runs and take 300 Test wickets, and the first to score a century and take 10 wickets in the same Test match. He scored a century and took 5 wickets in an innings in the same Test match on 5 occasions; no-one else has managed this feat more than twice.
He briefly held the world record for the greatest number of Test wickets, although his tally has subsequently been passed by several players.
During the 1981 Ashes (see below), Ian set a record of six sixes in a single Ashes Test Match at Old Trafford. That record remained unbroken until the 7th August 2005 when Andrew Flintoff scored five in the first innings and four in the second innings of the second Test at Edgbaston, and again until the 12th September 2005, when Kevin Pietersen hit seven sixes in the second innings of the last Test at The Oval.
'Botham's' Ashes - 1981
In 1980, Botham was appointed captain of the England team. However, his captaincy was not a happy one; he lost form and the team did not do well (see above). There was also an incident in the 1980 centenary Test against Australia at Lord's where several frustrated Lord's pavilion members threw punches at him, after what they saw as his alliance with the umpires to unnecessarily delay play on a dry, sunny, Saturday (it had rained heavily the previous night).
He resigned the captaincy after a loss and a draw in the first two Tests of the 1981 Ashes series. Botham was dismissed for a pair in the Second Test at Lord's. He returned to an embarrassed silence in the pavilion and after the previous year's events at the centenary Test, this possibly was the final straw. For the rest of his cricketing career, Botham always refused to acknowledge the pavilion members when he played at Lord's.
Mike Brearley, the captain Botham had replaced, took over the reins for the Third Test scheduled for 16 to 21 July, at Headingley. Australia won the toss and elected to bat. They batted all day Thursday and most of Friday, declaring after tea at 401 for 9, John Dyson having made 102 and Botham having taken 6 for 95. The England openers Graham Gooch and Geoff Boycott survived the remaining few overs, and England finished the day on 7 for no wicket.
The next day, Saturday, was a disaster for England: Gooch was out in the first over of the day, and although Boycott and Brearley then attempted to dig in, they were both out before lunch. None of the other batsmen got going at all with the exception of Botham who top scored with 50 — his first half century since his first Test as captain 13 matches earlier. England were all out in the third session for 174. Australia enforced the follow on and piled on the pressure, Gooch was out for 0 on the third ball of the first over caught by Terry Alderman off the bowling of Dennis Lillee. By the close, England had struggled to just 6 for 1, still 221 behind Australia.
Sunday 19 July was a rest day and the papers roasted the lamentable England team. Morale was not improved by the news that Ladbrokes were offering 500-1 against England winning the match. (Controversially, the Australian wicket keeper Rod Marsh and opening bowler Dennis Lillee both placed bets on England to win, claiming that 500-1 were silly odds on any two-horse race.)
On Monday morning the odds began to look generous as first Brearley, then David Gower and Mike Gatting all fell cheaply to reduce England to 41 for 4. Boycott was still anchored at the other end however and he and Peter Willey added 50 runs before lunch. In the afternoon however, Willey was out for 33 and England were in deep trouble at 105 for 5 as Botham walked out to bat. Matters did not improve as first Geoff Boycott and then Bob Taylor were soon dismissed. At 135 for 7 an innings defeat looked almost certain.
By all accounts, both teams' players thought Australia would win the match. When Graham Dilley joined him at the crease, Botham reportedly said, "Right then, let's have a bit of fun...". With able support from Dilley (56) and Chris Old (29), Botham hit out and by the close of play was 145 not out with Bob Willis hanging on at the other end on 1 not out. England's lead was just 124 but there was hope. On the final day's play there was time for just four more runs from Botham before Willis was out and Botham was left on 149 not out. Wisden rated this innings as the 4th best of all time.