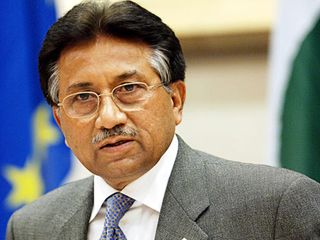 Political leader, military officer. Born August 11, 1943, in Mohallah Kacha Saad Ullah, Old Delhi. The son of a diplomat, Pervez Musharraf was raised in Karachi, Pakistan, and Istanbul, Turkey. He was a member of the Pakistan Military Academy's elite Artillery Regiment in the 1960s and fought in the 1965 war against India. Musharraf served as company commander of the Special Service Group Commando Battalion in the 1971 war with India. He worked his way up through the military and political ranks to become general and chief of army staff in 1998. Musharraf took over as Pakistan's president in a bloodless coup in 1999 and led the country until his resignation in 2008.
Pervez Musharraf was born into a family of civil servants. His father, Syed Musharraf Uddin, was a member of the Pakistani Foreign Service and later, retired as secretary of foreign affairs. His mother, Zarin, worked for the United Nations Organization. Shortly after the India-Pakistan division in 1947, Syed moved his wife and three children, Musharraf, older son Javed, and youngest son, Naved from Old Delhi, India, to Pakistan.
The family spent seven years, from 1949 to 1956, in Istanbul, Turkey, where his father was a diplomat. Pervez Musharraf became fluent in Turkish and gained an appreciation for Turkey's founder, Mustafa Kemal Ataturk. Later the family moved back to Pakistan, and Musharraf attended St. Patrick's School in Karachi and graduated in 1958. He later attended Forman Christian College in Lahore and was said to be a good math student.
In 1961, Musharraf attended the Pakistan Military Academy and graduated 11th in his class. He was commissioned in April 1964 to an artillery regiment and later joined the Special Service Group. Musharraf continued his military education at the Command and Staff College and the National Defense College in Pakistan. He also attended the Royal College of Defense Studies in the United Kingdom. In 1965, he was charged with taking unauthorized leave and was about to be court-martialed when war broke out with India. The charges were dropped and Musharraf reported for duty.
Musharraf saw action in the Indo-Pakistani War of 1965 as a second lieutenant in the Field Artillery Regiment. He was part of a major offensive against the Indian army in the Khemkaran sector, in which Pakistan advanced 15 miles into India. Despite the initial success and possessing superior advantage in armor, the Pakistani 1st Armored Division suffered a major defeat and had to pull back. Later, Musharraf was sent to the Sailkot front in India. During the war, Musharraf showed bravery in the line of fire as Indian artillery guns shelled his unit. He received an award for gallantry and was promoted to captain.
Pervez Musharraf moved up the ranks as Pakistan continued to battle with India over territory. Throughout his military career, Musharraf would serve on several appointments. By the 1980s, Musharraf was commanding an artillery brigade. In the 1990s, he was promoted to major general and assigned an infantry division and later commanded an elite strike force. Later he served as deputy military secretary and director general of military operations. As his rank and notoriety rose, Musharraf was also making inroads in the political arena. In 1998, he was personally promoted over other senior officers by Prime Minister Nawaz Sharif to be the Army chief of staff and chairman of the Joint Chiefs of Staff Committee.