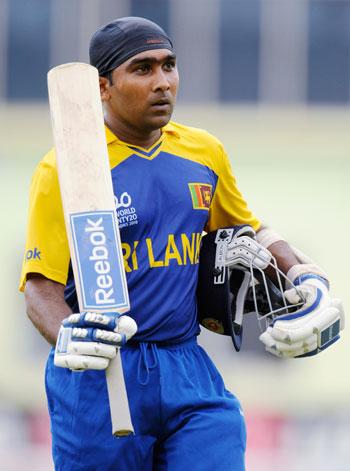 About Mahela Jayawardene:
M
ahela Jayawardene, born 27 May 1977, is the vice captain of the Sri Lankan
Cricket
team. He is a specialist batsman who has a test average
close
to 50, and an ODI average in the 30s.
This exciting batsman made his Test Debut in the record breaking Test in 1997 against India at R.P.S., Colombo. Mahela Jayawardene added 66 to the massive score. That same match, Sanaath Jayasuriya played a man of
the match
performance with a score of 340.
Sri Lanka
ended up scoring 952/6, the highest ever test score. Jayawardene was at the crease when they surpassed the previous highest test score. With one heck of a debut match, Jayawardene developed an appetite for big scores. He
continued
his dream start to his career, with scores like the 167 against
New Zealand
and the brilliant 242 against India.
His
One Day International
debut was against Zimbabwe at Premadasa in January 1998. They won the match, with Jayawardene hitting the winning run. In his very second
game
, Jayawardene scored a 74 against Zimbabwe. It took only 11 matches before he scored his first century, which was against England in the Carlton and United World Series game at Adelaide. The world was about to witness the real talent and temperament of Mahela Jayawardene. Jayawardene entered a pressure situation, with Sri Lanka struggling at 134/4. The 21 year old Sri Lankan, managed to post a scintillating 120 runs to win the match.
Off the field he has won great admiration for his huge personal contribution to the HOPE
cancer
project. His cricketing career ground to a halt in the most tragic of circumstances, when a brain tumour claimed the life of his younger brother and Dhishal, who was
just
16 at the time. At the time, Mahela was captain of his school team and gave up cricket for six months. Eventually he was persuaded to go on and set about to rebuild his career. With memories of Dhishal in mind, he became the leading campaigner of HOPE. Now, wiith the support of his team-mates, he aims to build a new 750-bed cancer unit at Maharagama, the country's only dedicated Cancer Hospital. Jayawardene has much cricket left in him, and it is likely that when the time comes, he will take over as captain of Sri Lanka. In the mean time, we can enjoy seeing additions to his 6 ODI centuries, and his 13 test centuries.
"There is so much uncertainty in cricket. One day you can get a hundred, the next day you can be dismissed for a zero. It makes you become practical about things. Teaches you to accept both success and failure. I think I have learnt a lot about life from cricket." – Mahela Jayawardene