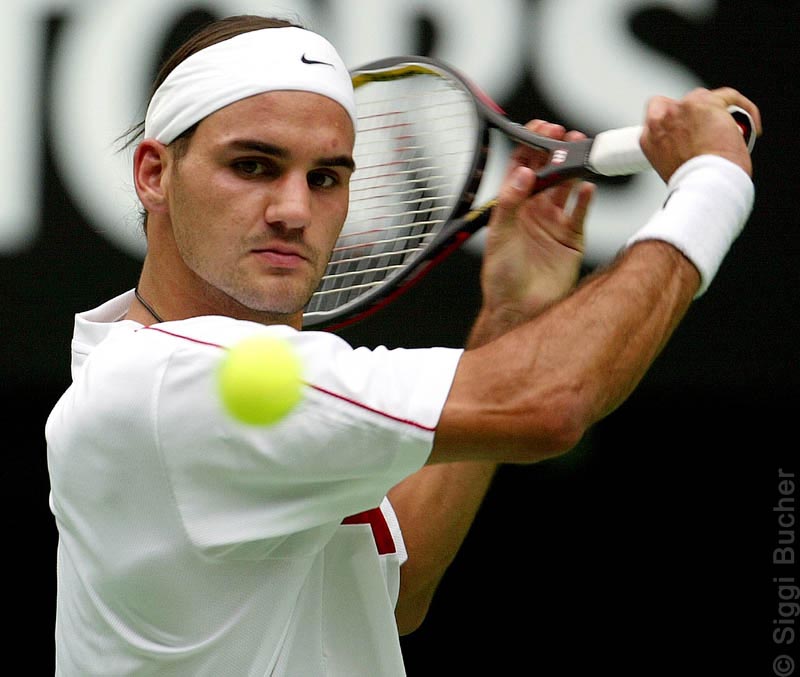 Roger Federer is a Swiss tennis player whose amazing achievements helped rank him along the best tennis professionals of all time. As of January 2007, Roger Federer is the world's number 1 tennis player. Many tennis observers, including even many of his peers, believe that Federer can be the greatest tennis player ever.
Federer became the first player in 2002 since Mats Wilander in 1988 to win three out of four Grand Slam singles tournaments. Federer was able to repeat this achievement in 2006 and became the first tennis players in the open era to become winners in at least ten singles championships for three consecutive years. Federer has also won 9 titles in Grand Slam men's singles in 30 appearances, triple Tennis Masters Cup, and 12 ATP Masters singles titles. Federer is the only tennis player to win both the U.S. and the Wimbledon singles titles in three consecutive years, from 2004 to 2006.
Roger Federer was born on August 8, 1981, in Binningen near Basel, Switzerland. His parents are Robert Federer, a Swiss-German and Lynette Federer, of South African nationality. Federer considers German as his main language German, but he is also fluent in the French and English languages. Federer always conducts his press conferences in all these three language. Currently he resides in Oberwil, Switzerland and is seeing former WTA player Miroslava Vavrine, also a Swiss, who retired from tennis upon injuring her foot in 2002.
Federer and Vavrine met during the 2000 Sydney Olympics.
On December 2003, he established the Roger Federer Foundation, the goals of which include funding projects that would benefit disadvantaged children in South Africa. In January 2005, he spearheaded charity projects for the people who were affected by the Indian Ocean tsunami of 2004. Federer played as many games as possible in tournaments organized for fund-raisings with the tsunami victims as beneficiaries. He also auctioned off some of his autographed rackets to raise funds for the relief operations of UNICEF.
On April of 2006, Roger Federer was appointed an Ambassador of Goodwill to UNICEF, a world organization which assists on the needs of poor children from all parts of the world. His first official trip as a UNICEF Ambassador of Goodwill was on December of 2006, when he visited the children in the Tamil Nadu, a region in India devastated by the December 2004 tsunami.
Roger Federer's Tennis Career
Roger Federer started playing the sport of tennis when he was six years old. Apart from tennis, he also played football until he finally decided to focus on tennis at the age of 12. When he was 14, Federer became the Swiss champion for all age groups and was selected to train at Ecublens' Swiss National Tennis Center. In July 1996, he played at the ITF junior tennis circuit.
In 1998, Federer took both the Wimbledon juniors title and Orange Bowl. He was likewise recognized as the ITF World Junior Tennis champion for the same year. This is also the year when he joined the ATP tour. In 1999, Federer played for the first time for the Swiss Davis Cup group. He also became the youngest tennis player to belong to the top 100 ranked tennis players at ATP.
Federer's first ATP victory happened in Milan on February 2001. During the same month, he won three matches for his country in a 3-2 Davis Cup victory over the United States.
In 2002 and 2003, Roger Federer made significant achievements at the Davis Cup and the Houston tournament respectively. In the Davis Cup, he won both singles matches against Marat Safin and Yevgeny Kafelnikov, former top Russian players. At the 2003 Houston tournament, he won the Tennis Masters Cup.
The year 2004 was Roger Federer's one of the most successful years in the sport of men's tennis. He was able to win three of the four of the Grand Slam singles tournament. He also won his first Australian Open title when he defeated Marat Safin. Federer was also the ITF Tennis World Champion and adjudged in 2005 as the Laureus World Sportsman of the Year.
In January 2006, Roger Federer won the Australian Open when he defeated Marcos Baghdatis of Cyprus. This win marked his third Grand Slam Championship. In 2006 French Open, Federer tried to pursue the only Grand Slam tournament he has yet to win. He entered the tournament as the top seed but lost the final match to Rafael Nadal, the French Open Defending Champion four sets. Although the French Open title eluded him, he became one of only two tennis players who reached the finals of all Grand Slam singles tournaments, the other one being Andre Agassi.