Date of Birth
6 January 1966, Madras (now Chennai), India
Birth Name
A.S. Dileep Kumar
Nickname
The Mozart of Madras
Isai Puyal
Mini Biography
Allah Rakha Rahman was born A.S. Dileep Kumar on January 6, 1966, in Madras (now Chennai), India, to a musically affluent family. Dileep started learning the piano at the age of 4, and at the age of 9, his father passed away. Since the pressure of supporting his family fell on him, he joined Ilayaraja's troupe as a keyboard player at the age of 11. He dropped out of school as a result of this and traveled all around the world with various orchestras.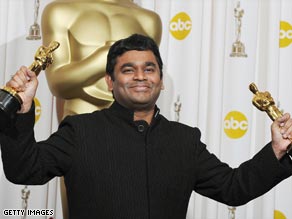 He accompanied the great tabla maestro Zakir Hussain on a few world tours and also won a scholarship at the Trinity College of Music at Oxford University, where he studied Western classical music and obtained a degree in music. Due to some personal crisis, Dileep Kumar embraced Islam and came to be known as A.R. Rahman. In 1987, he moved to advertising, where he composed more than 300 jingles over 5 years. In 1989, he started a small studio called Panchathan Record Inn, which later developed into one of the most well-equipped and advanced sound recording studios in India.
At an advertising awards function, Rahman met one of India's most famous directors, Mani Ratnam. Rahman played him a few of his music samples. Mani loved them so much that he asked Rahman to compose the music for his next film, Roja (1992). The rest, as they say, is history. He went on to compose several great hits for Tamil-language films before composing the score and songs for his first Hindi-language film, Bollywood Dreams (1995). The enormous success of his first Hindi venture was followed by the chart-topping soundtrack albums of films such as Bombay (1995) , Dil Se.. (1998), Taal (1999), Zubeidaa (2001), and Lagaan: Once Upon a Time in India (2001), which was nominated for best foreign-language film at the 2002 Academy Awards.
More recently, he worked with Sir Andrew Lloyd Webber and Shekhar Kapur (director of Elizabeth (1998)) on a musical called "Bombay Dreams." At 36 years old, A.R. Rahman has revolutionized Indian film music and one can only expect this musical genius to reach greater heights.
Trade Mark
His music always has a Southern Indian influence.
Trivia
Studied Western classical music as a student at Oxford University in the UK.
He was nominated for a 2003 Laurence Olivier Theatre Award (The Hilton Award) for Best New Musical of 2002, "Bombay Dreams", performed at the Apollo Theatre, West End, London, and on Broadway in New York City.
On August 15, 1997, he released an album called "Vande Mataram," on Columbia/SME Records, to commemorate 50 years of Indian independence. A tribute to the motherland, it featured songs for each of the Indian flag colors. The album was released simultaneously across the world in 28 countries, and Rahman himself performed in New Delhi to a packed audience including the honorable Indian Prime Minister. Over 1.2 million copies were sold in India alone.
Also known as the John Williams of the Indian Film Industry.
Collaborated on The Lord of The Rings' Stage Musical original score with Finnish folk music group Varttina and Christopher Nightingale.
Personal Quotes
I have rubbed many a producer the wrong way by disturbing the schedule, but it has paid off.
I wasn't too happy with the I-don't-want-to-listen-to-it attitude of our youngsters towards film music. Why can't we get our guys to listen to our own music rather than to Michael Jackson? I didn't want us to lose the market to the West. The music had to be cool and rooted, and yet had to branch out. It was like the wild imagination of a child... but it worked... it did travel beyond Madras and attract people.
About his belief in Sufism: "I'm a deeply spiritual person. Sufism is about love - love for a fellow human, love for all round humanity, and ultimately love for God. For me, it's where music and religion meet - at dargahs, you will find qawwalis. That's my inspiration."
About his song Vande Mataram: "It had to be unlike the one played on the radio for years. I wanted a sound that would connect me with people and capture a collective energy."
I hate the word [Bollywood]. I think it's derivative and it doesn't represent the entire film community in India. There's the eastern film industry, four industries in the south - they all make extraordinary films. It's like saying the whole of the West is Hollywood.