Date of Birth
24 March 1962, Houston, Texas, USA
Birth Name
Mark William Calaway
Nickname
The Lord of Darkness
The Man From the Dark Side
The Phenom
The American Bad Ass
Big Evil
The Deadman
The O.D. - Original Deadman
The Punisher/Punisher Dice Morgan
Mean Mark Callous
Texas Red
'Taker
The Undertaker
The Last Outlaw
The Demon of Death Valley
Height
6' 10½" (2.10 m)
Mini Biography
Mark William Calaway is an American professional wrestler, better known by his ring name The Undertaker. He is signed to World Wrestling Entertainment (WWE), currently wrestling on the SmackDown brand.
Calaway began his wrestling career with World Class Championship Wrestling in 1984. He joined World Championship Wrestling (WCW) in 1989. When WCW did not renew Calaway's contract in 1990, he joined the World Wrestling Federation (which later became World Wrestling Entertainment in 2002) as The Undertaker in November of that year. Having remained with that company ever since, Calaway is currently one of the senior performers in WWE. He is one of only two wrestlers (the other being Shawn Michaels) to have appeared on the very first episode of Raw who are still with the company today.
Calaway's Undertaker character has two contrasting gimmicks which are the Deadman and the American Bad Ass. The Undertaker is undefeated at WrestleMania with a 18-0 record and is a six time world champion (four time WWE Champion and two time World Heavyweight Champion). He was also the winner of the 2007 Royal Rumble in which he became the first man to win the Rumble starting at number 30.
Spouse
| | |
| --- | --- |
| Michelle McCool | (26 June 2010 - present) |
| Sara Calaway | (21 July 2000 - 25 April 2007) (divorced) 2 children |
| Jodi Lynn | (24 November 1989 - 15 June 1999) (divorced) 1 child |
Trade Mark
Rolls his eyes into the back of his head.
His arms, covered entirely with tattoos of "The Undertaker".
"The Tombstone Piledriver" is also another finishing move but not used as often as in the past due to the damage it does to his knees.
Walking on the top rope.
Ring entrance: Sombre walk to ring in purple light and smoke. Accompanied by funeral music
Treadmark move: The Guillotine (puts steel chair on opponent's throat and slams the chair to the ground, causing his opponent to land their throat on top of the chair)
New Finishing move: Taking Care of Business ( a standing Dragon Sleeper)
Trademark move: Old School (Walking on the top rope while holding his opponent's arm and then jumps off and clubs his opponent's back)
Trademark move: Sidewalk Slam
Trademark move: Running Leg Drop
Trademark move: Choke (early 1990s)
Trademark move: Fujiwara Armbar
Trademark move: Triangle Choke
Trademark move: Reverse STO
Trademark move: Diving Body Press to the outside
Trademark move: Charging DDT
Trademark move: Running Big Boot
Trademark move: Flying Clothesline
Trademark move: Guillotine Leg Drop
Trademark move: Takin' Care of Business (Dragon Sleeper)
Trademark move: Snake Eyes
Trademark move: Dead Man Walking/Old-School (Arm Twist Ropewalk Chop)
Finishing move: Heart Punch (WCW)
Finishing move: Super Chokeslam
Finishing move: Iron Claw (pre-1995)
Finishing move: Chokeslam
Finishing move: Last Ride (Elevated Powerbomb)
Finishing move: Tombstone Piledriver
Trivia
The Undertaker first did "The Last Ride" to Edge on June 30, 2000 on "WWE Smackdown!" (1999).
One of the 100 Greatest Wrestlers of the 20th Century (as determined by Inside Wresting).
Professional wrestler.
Former WWF/WWE (Undisputed) World Heavyweight Champion (4x), former WWF World Tag Team Champion (6x), former WWF Hardcore Champion (1x).
Former leader of the Ministry of Darkness.
He first won the WWF Championship at Survivor Series (1991) (V), defeating Hulk Hogan.
Before joining the WWF, the Undertaker wrestled in WCW under the name Mean Mark Callous.
Crushed his eye socket in 1995 when Mabel gave him a botched leg drop. He later had to wear a mask for several months until his eye socket had recovered.
In May 2002, he defeated Hulk Hogan at WWE Judgment Day (2002) (TV) and became the new WWE Undisputed Champion.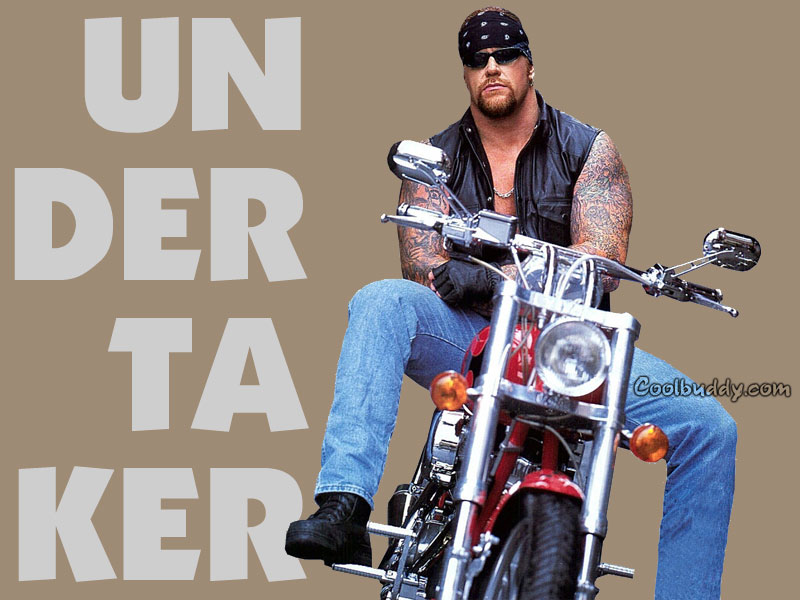 Won his fourth WWE Championship from Hollywood Hulk Hogan.
Took 7 - 9 months out of wrestling because of a pectoral muscle injury.
In an ironic twist, he wrestled for a while under the name Kane the Undertaker ("Kane" became the Undertaker's "brother").
Both he and his wife Sara Calaway are boxing fans.
In real life he is 6' 8" tall. In WWE he is billed up to 6' 10 1/2".
Mentioned in a 2001 interview that he considers his 1999 gimmick as the Satanic "Lord of Darkness" as the worst part of his entire career.
From December 1991 to September 1993, Undertaker did not lose a single match. It was the longest undefeated streak of the 1990s.
Undertaker is undefeated in 17 WrestleMania appearances. His fallen foes are: 'Superfly' Jimmy Snuka (WM VII), Jake Roberts (WM VIII), Giant Gonzalez (Jorge Gonzáles) (WM IX), King Kong Bundy (WM XI), Diesel (Kevin Nash)(WM XII), Sycho Sid (Sid Eudy) (WM 13), Kane (Glenn Jacobs) (WM XIV and XX), The Big Boss Man (Raymond Traylor) (WM XV), Triple-H (Paul Levesque) (WM X7), "Nature Boy" Ric Flair (WM X8), the team of Big Show (Paul Wight) & A-Train (Matt Bloom) (WM XIX), Randy Orton (WM21), Mark Henry (WM22), Batista (Dave Bautista) (WM23), Edge (Adam Copeland) (WM24) and Shawn Michaels (WM25).
Before joining WWE in 1990, Undertaker competed under the following names: Texas Red, The Commando, Master of Pain, The Punisher, Mean Mark Callous and Punisher Dice Morgan.
While many Undertaker fans wanted him to return at the Royal Rumble (2003) (TV) as the "Lord of Darkness" Undertaker, he preferred his then biker gimmick.
Despite having partner Nathan Jones knocked out before the match, he increased his WrestleMania record to 11-0 by defeating Big Show & A-Train in a Handicap Match at WrestleMania XIX (2003) (TV).
Before defeating Hollywood Hulk Hogan at WWE Judgment Day (2002) (TV), Undertaker called himself "judge, jury and executioner of Hulkamania".
Has a son from first wife Jody Lynn; Gunner Vincent Calaway (born 1993) and two daughters (Chasey, born in 2002, and Gracie, born in 2005).
Prior to becoming a wrestler, he had plans to play professional basketball in Europe when he suffered a career ending knee injury.
Mother: Catherine Calaway. Father: Frank Calaway (died July 22 2003). Older brothers: David, Michael, Paul, and Timothy.
Attended Angelina College in Lufkin, Texas on a basketball scholarship.
His brother Paul is a police officer.
Although they resemble each other slightly, there is no family relation between The Undertaker and Kane.
Last match in WCW was against Lex Luger.
Teamed with "Dangerous" Dan Spivey in NWA, replacing the injured Sid Vicious in the Skyscrapers tag team. Ironically, at WrestleMania 13 (1997) (TV), The Undertaker defeated Sid Vicious for the WWF Championship.
Was managed by Paul Heyman in WCW.
His best friend is Brian Harris, or Chainz to WWF fans. Brian was also the best man at Mark's first wedding to Jodi Lynn.
Notable title wins include: USWA Unified Heavyweight title; USWA Texas Heavyweight title; WWF Title (3); WWF Tag Team Titles with Steve Austin; WWF Tag Team Titles with Big Show (2); WWF Tag Team Titles with The Rock; WWF Tag Team Titles with Kane (2); WCW Tag Team Titles with Kane; WWF Hardcore Title; WWE Undisputed Title.
As a wedding gift, Calaway had his wife's name Sara, tattooed on his throat and has said that it was most painful tattoo he has ever had.
Said that the biggest thrill of his wrestling career was riding his own motorbike to the ring during WrestleMania X-Seven (2001) (TV) in his hometown of Houston, Texas.
Memorable moment was also entering London's Wembley Stadium in front of 80,000 fans on the back of a hearse at Summerslam (1992) (V).
His best friend Brian Harris once wrestled as the fake Undertaker while Mark was on sabbatical. When Mark returned to the WWF, it set up an Undertaker vs Undertaker storyline.
He was frequently in casket matches. Two of the most famous came against Yokozuna. The first was at Royal Rumble (1994) (TV), with the WWF Title on the line. Undertaker had the match won, when he was set upon by at least 7 wrestlers. Undertaker won the rematch at Survivor Series (1994) (TV), where karate expert Chuck Norris was at ringside to make sure there was no interference.
Has won two of his WWF World Titles from Hulk Hogan.
Vince McMahon originally created the gimmick of The Undertaker to look like an undertaker from the Old West. The final look in his debut was one of several looks that were designed in the early stages.
In 1983, Mark graduated from S.P. Waltrip High School in Houston, Texas. He was a member of the school's basketball team. Shelley Duvall and Patrick Swayze also graduated from this high school.
Defeated King Kong Bundy at WrestleMania XI (1995) (TV).
In early 1991, Paul Bearer replaced Brother Love as The Undertaker's manager.
Former WCW Tag Team Champion.
The Undertaker was the first selection by Ric Flair in the WWE brand extension draft for RAW.
Former World Tag Team Champion.
At WrestleMania 22 (2006) (TV), he defeated Mark Henry in a Casket Match.
Former WWF Hardcore Champion.
Previous Managers: General Skandor Akbar, Paul Bearer, Downtown Bruno, Paul E Dangerously, Ted DiBiase, Mr. Fuji, Sylvia Fuller, Ronald Gossett, Teddy Long, Brother Love, "Dirty" Dutch Mantel, Sara Calaway.
Is a close friend of MMA legend Pat Miletich and his students Jeremy Horn and Matt Hughes.
Is a huge MMA fan and frequently attends UFC and Pride FC events.
Use a lot of techniques brought from MMA training (triangle chokes, arm-bars, key-locks).
Undertaker holds the record of most WrestleMania appearances, having appeared at 18 as of 2010. He broke the record of 12 held by Bret Hart. However, Bret still holds the record for most consecutive WrestleMania appearances.
Outside of the wrestling business, he is a real estate investor.
At 6 foot 9 inches tall and over 325 pounds, he became the first near 7 foot tall man to do high flying moves.
On April 1st, 2007, he won his first World Heavyweight Championship by defeating Dave Bautista at WrestleMania 23 (2007) (TV).
Good friends with actor Tony Longo.
Leased one of his real estate properties -- a ranch in Cedar Creek, Texas -- to Brad Pitt and Angelina Jolie, while they were in the area for the filming of Brad's movie The Tree of Life (2011).
Received first and second degree burns due to a pyrotechnic miscue during his ring entrance at WWE's Elimination Chamber PPV in February 2010.
Has two daughters with Second Wife Sara Calaway; Chasey Calaway (born on November 21, 2002) and Gracie Calaway (born on May 15, 2005).
Is Irish and Native American.
After his victory over Tripple H (The Game), The Undertaker is now up to an incredible 19-0 winning streak at the WWE's main event - Wrestlemania.
Caused the retirement of Shawn Michaels after his 2nd consecutive victory over him at Wrestlemanias 25 and 26.
Personal Quotes
Time to see if your body can cash the checks your mouth has been writing.
Rest in peace
I may not dress like Satan anymore, but I'm still down with the devil and I will go medevial on your ass!
That wrestling ring is MY yard. And I'm the big dog that runs that yard.
Mess with me or my family and I WILL make you famous.
There is no shame in going out fighting and getting your ass kicked, but there is no honor in not fighting at all.
Salary
| | |
| --- | --- |
| WrestleMania 23 (2007) (TV) | $500,000 |
Where Are They Now
(August 2003) Involved in a second rate feud with WWE Up and Comer John Cena. Undertaker will fight A-Train at Summerslam 2003
(November 2003) Was "Buried Alive" at Survivor Series against Vince McMahon, when he was attacked by his "brother" Kane.
(February 2004) He is now starting a new feud with Kane after many a long month of waiting. He WILL return as the Dead Man, not the American Badass. He should make his physical presence known at Wrestlemania XX to interfere in a match with Kane. He will retire from wrestling within a year or so.
(March 2004) Made his return to the WWE at WrestleMania XX where he defeated his "brother", Kane.
(April 2004) Works in WWE part-time. Mainly used for special occasions and brief storylines/feuds.
(May 2004) Defeated Booker T at Judgment Day 2004.
(August 2004) Will face the WWE Champion JBL (John Bradshaw Layfield) at Summerslam 2004.
(August 2004) Lost to JBL when the Undertaker accidentally got himself disqualified when he used the Champsionship Belt to knock out JBL.
(October 2004) Lost to JBL in a Last Ride Match for the WWE Title due to interference from Heidenreich at WWE No Mercy 2004.
(December 2004) Lost a Fatal Four-Way Match for the WWE Championship along with Booker T and Eddie Guerrero at WWE Armageddon 2004. JBL won to retain the WWE Title.
(January 2005) Is set to face Heidenreich in a Casket Match at the Royal Rumble 2005 where this will be Heidenreich's final resting place.
(June 2004) Defeated the Dudley Boyz in a Concrete Crypt Match at the Great American Bash 2004, also burying his "weakness" Paul Bearer in a glass case of cement.
(April 2005) Will put his 12-0 WrestleMania record on the line against "The Legend Killer" Randy Orton.
(April 2005) At WrestleMania 21, Undertaker defeated Randy Orton to continue his undefeated WrestleMania streak at 13 wins and zero losses. The Undertaker has been with WWF/E for 15 years and is still one of their top superstars. The Undertaker used his patented "Tombstone" piledriver on Randy Orton to achieve his WrestleMania 21 victory.
(May 2005) Currently taking time off to not only nurse a hip injury but, also, to wait for the arrival of his and wife Sara's second child together.
(July 2005) Will take part in Number One Contendor Match against Muhamed Hassan at The Great American Bash on Sunday, 24th, Buffalo, New York. The winner takes an opportunity for a match for the World Heavywight Championship.
(October 2005) Slated to have a handicap match against "Cowboy" Bob Orton and son, Randy Orton at WWE No Mercy 2005.
(November 2005) Defeated Randy Orton in the main event of the Smackdown! tour to Torino, Italy in late November.
(December 2005) Defeated Randy Orton at Armageddon 2005 in a Hell in a Cell match.
(February 2006) Will face Kurt Angle at No Way Out for the World Heavyweight Championship.
(April 2006) Beat Mark Henry at Wrestlemania XXII.
(May 2006) Will face Daliph Singh at Judgement Day.
(May 2006) Lost to Daliph Singh (Great Khali) at Judgement Day by Pin Fall.
(July 2006) Scheduled to face Daliph Singh (Great Khali) at the WWE Pay-Per-View Event, The Great American Bash.
(July 2006) Returned after a few weeks of absence to WWE Smackdown to continue feuding with Daliph Singh (Great Khali).
(July 2006) Won Big Show at the Punjabi prison match at the Great American bash. Big Show was replacement for Great Khali.
(January 2007) Is expected to face World Champion Batista at Wrestlemania 23, after he won the Royal Rumble in San Antonio Texas on 28th January 2007.
(January 2007) Coming in at #30, The Undertaker finally won his first Royal Rumble Match, at last eliminating Shawn Michaels to secure a championship match in the main event of WrestleMania 23.
(January 2007) Winner of the Royal Rumble 2007 30-men elimination match. He will have a Championship match for the WWE title at Wrestlemania 23.
(February 2007) Is tag team partners with his 'brother' Kane (Glen Jacobs) on Smackdown as The Brothers of Destuction (B.O.D.)
(April 2007) At WrestleMania 23, Undertaker defeated Batista for the World Heavyweight Championship and keeping his WrestleMania record at 15-0.
(April 2008) At Wrestlemania 24, Undertaker defeated Edge, winning the World Heavyweight Championship and kept his undefeated streak at 16-0.
(December 2009) At TLC: Tables, Ladders & Chairs Pay-Per-View The Undertaker defeating Batista in a Chair match to retain his World Heavyweight Championship