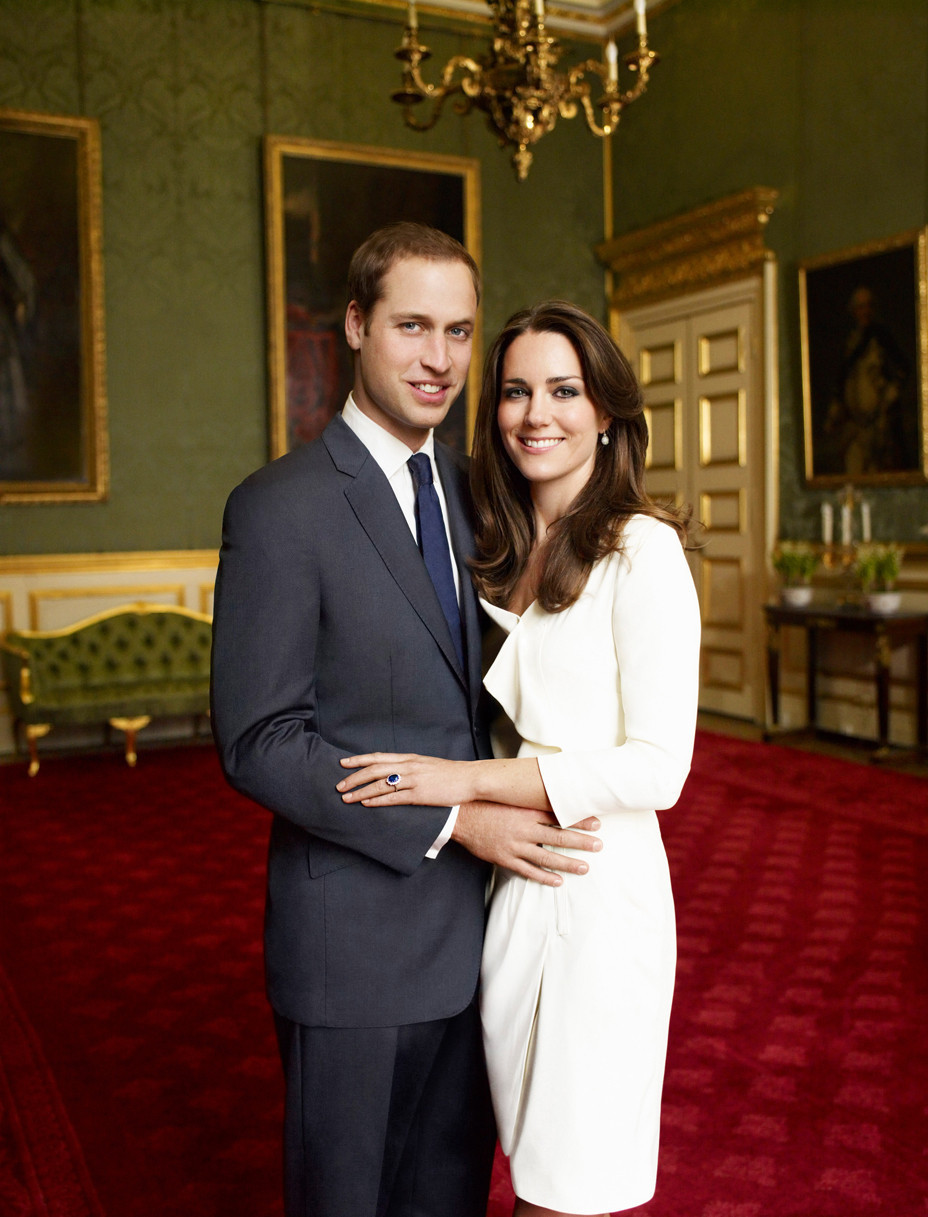 Royalty.
Born Prince William Arthur Philip Louis Windsor, on June 21, 1982, the eldest son of Diana, Princess of Wales, and Charles, Prince of Wales. His official title is His Royal Highness Prince William of Wales.
William attended Mrs. Mynor's Nursery school in West London (1985-87), Wetherby School in Kensington, London (1987-90), and Ludgrove School in Wokingham (1990-95). In 1995 at the urging of his grandfather, the Duke of Edinburgh, Prince William (nicknamed "Wills") entered Eton College, one of England's most prestigious secondary schools. A serious student with excellent grades, he also excelled in sports at Eton, particularly swimming. With his father and brother, he enjoys outdoor sports including riding, skiing, shooting and fishing.
As he is directly in line to the British throne after his father, Charles, he spends a good deal of time with Queen Elizabeth at Windsor Castle, who is very concerned with his upbringing and career development.
Affected by both his parents' divorce in 1996 and his mother's tragic death in 1997, the tall and handsome young William has publicly stated his dislike for the press, and seems uncomfortable with the growing attention he is getting from love-struck adolescent girls. William gives the impression of being a well-mannered, responsible and mature young man who shows a strong sense of duty and loyalty to the royal family, fully aware of the role he is to play in the future as the King of England.
Royal Wedding Ring
Upon his graduation from Eton, William took a break from his studies to visit South America and Africa. He then attended Scotland's St. Andrew's University, where he received a degree in geography in 2005. Following in the footsteps of his younger brother, Prince Harry, William joined the Royal Military Academy Sandhurst as a military cadet and received his commission as a second lieutenant in the Household Cavalry in December 2006. In 2008, he was appointed to be a Royal Knight Companion of the Most Noble Order of the Garter. He is now training to be a search and rescue pilot with the Royal Air Force.
Along with his military career, William supports numerous charities, including serving as patron to Centrepoint, an organization for homeless youth, and the Tusk Trust, which is dedicated to the preservation of African wildlife. In 2007, William and his brother Harry are hosting a special concert to celebrate their late mother and raise funds for charities that Princess Diana supported during her life as well as charities supported by the princes.
As the future king of England, William's personal life has been the subject of much media attention. He had been romantically linked to Kate Middleton; the couple met while attending St. Andrew's University. Rumors of a possible engagement swirled around the pair for months, but to the surprise of royal watchers, the couple announced that they were splitting up in April 2007. However, in the time since that announcement, Middleton had attended several public and official events, as well as traveled on vacation with Prince William. Speculation about a wedding engagement between Prince William and Kate Middleton continued to swell.
About Kate Middleton:
Catherine Elizabeth "Kate" Middleton (born 9 January 1982) was the former girlfriend of Prince William of Wales, elder son of Prince Charles, the Prince of Wales and the late Diana, Princess of Wales, and second in line to the throne of the United Kingdom.
Early life Kate Middleton
Born at the Royal Berkshire Hospital in Reading, Berkshire, England, Middleton is the elder daughter of self-made millionaire Michael Middleton (born 1949), who was an airline officer at the time of her birth, and his wife, the former Carole Goldsmith, who was an air hostess.[1] Her parents now own Party Pieces, a mail order company that sells children's party paraphernalia. She has a younger sister, Philippa ("Pippa") and a younger brother, James.
Middleton was raised in Bucklebury, Berkshire, in the south of England. She went to St Andrew's School, Pangbourne until she was 13 and then attended the public school Marlborough College (the same school William's cousin Princess Eugenie of York attends), where she passed eleven GCSEs and three A-level exams. Like the Prince, Middleton was a student at the University of St Andrews in Fife, Scotland. She graduated in 2005 with a 2:1 (Upper Second-Class) MA (Hons) degree in History of Art.
In early 2006, it was rumoured that Middleton intended to found her own mail order company, selling high-end children's clothes. After a key investor stepped down, however, she decided to hold off on this plan.[2] In November 2006, she accepted a position as an accessories buyer assistant with the British clothing chain Jigsaw.
Kate Middleton and Prince William

While attending the University of St Andrews in 2001, Middleton met Prince William of Wales. At the time, Middleton was already in her second year at St Andrews. Since around Christmas of 2003 she and Prince William have been involved in a relationship that has been subjected to intense media attention.
The couple were first seen publicly on a ski trip in Klosters in April 2004. During 2005, the British media began speculating that the Prince and Middleton would eventually become engaged. It is believed that she has met the Queen at Balmoral, but there has been no statement from the Queen or from Prince Charles regarding their views on the relationship or a possible marriage. However, Prince Charles has asked and warned the media to leave Middleton alone on numerous occasions.
Middleton's status as the girlfriend of Prince William has brought her widespread media coverage in the UK and abroad, and she is often photographed on her daily outings. On 17 October 2005, she complained through her lawyer about harassment from the media, stating that, she had done nothing to court publicity. In December 2005, the German magazine Das Nee published photos of the exterior of Middleton's London flat, revealing its location in London. This prompted a security review by police amidst concerns for her safety and a report in the London Evening Standard that Prince William was considering going to the European Court of Human Rights over concerns for Middleton's and his own privacy.
In February 2006, it was announced that Middleton would receive her own 24-hour security detail supplied by the Royalty and Diplomatic Protection Department. This fuelled further speculation that she and Prince William would soon be engaged, since she would not, otherwise, be entitled to this service. No engagement occurred, and Middleton was not granted an allowance to fund this security.
Middleton has been included in at least one activity attended by members of the royal family; Prince William's "passing out" ceremony at Sandhurst military academy. It was reported by the Daily Mail, a British tabloid newspaper, that she was invited by the Queen to Christmas lunch in 2006, that would have made her the first unmarried partner of a royal to be asked to the festive celebrations at the royal estate of Sandringham House near Sandringham, Norfolk. Middleton declined the offer, preferring to spend Christmas with her own family.
Engagement of Kate Middleton and Prince William
On 16th November, 2010, Kate Middleton and Prince William announced their plans to marry in the new year
Announcing their engagement Prince William said: "The timing is right now, we are both very, very happy." Miss Middleton added that joining the Royal Family was a "daunting prospect" but said: "Hopefully I'll take it in my stride."