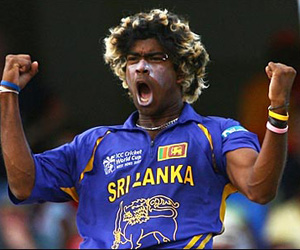 About Malinga:
Full name Lasith Malinga
Born August 28, 1983, Galle
Current age 27 years 145 days
Also known as Separamadu Lasith Malinga Swarnajith
Playing role Bowler
Batting style Right-hand bat
Bowling style Right-arm fast
Major teams Sri Lanka, BCCSL Academy XI, Galle Cricket Club, Kent, Mumbai Indians, Nondescripts Cricket Club, Ruhuna
Lasith Malinga Profile:
Lasith Malinga was the surprise selection for Sri Lanka's tour to Australia in 2004, though he had a fearsome reputation on the domestic circuit. Malinga bowls with a distinctive and explosive round-arm action which generates genuine pace and can disconcert batsmen who struggle to pick up the ball's trajectory. Already, he is rated the fastest bowler in Sri Lanka. His first performance in Sri Lankan colours was also impressive – he took 6 for 90 against a Northern Territory Chief Minister's XI. That paved the way for his inclusion in the Test team, and he acquitted himself quite well too, dismissing Darren Lehmann and Adam Gilchrist in the same over. During an impressive tour of New Zealand in April 2005 his low-slung action resulted in the New Zealand batsmen asking the umpire to change the colour of their trousers as the ball was getting lost. He is developing into Sri Lanka's key pace-bowling wicket-taker, especially as Chaminda Vaas continues to lose pace. Although he remains quite erratic and has a propensity to bowl no-balls, heis a genuine strike bowler, with both new ball and old, and one has the out-and-out pace to trouble the best batsmen on his day. His development as an all-round bowler was confirmed when he was the leading wicket-taker in the one-day series against England. He continued to impress in the Champions Trophy and on tour in New Zealand – where his yorkers made many batsmen hop around.
He established himself as a regular in the playing XI after an impressive World Cup in 2007, with 18 wickets at 15.77 from eight matches as Sri Lanka made it to the final. One of the moments of the tournament was Malinga's four in four against South Africa – the first time a bowler had taken four wickets off successive deliveries in international cricket. However, Malinga was largely ineffective during Sri Lanka's two Tests in Australia and the subsequent home series against England.
Lasith Malinga Batting, Fielding and Bowling
The above stats are as per date of this post.
Lasith Malinga Career
Test:
2004-2010
ODI:
2004-2010
T20:
2006-2010
IPL:
2009-2010
CLT20:
2010-2010
Lasith Malinga Test Matches
Debut:
Sri Lanka Vs Australia at Marrara Oval, Darwin – Jul 01, 2004
Last played:
Sri Lanka Vs India at P Sara Oval, Colombo – Aug 03, 2010
Lasith Malinga ODI Matches
Debut:
Sri Lanka Vs United Arab Emirates at Rangiri Dambulla International Stadium, Rangiri – Jul 17, 2004
Last played:
Sri Lanka Vs Australia at Brisbane Cricket Ground (Woolloongabba), Brisbane – Queensland – Nov 07, 2010
Lasith Malinga T20 Matches
Debut:
Sri Lanka Vs England at The Rose Bowl, Southampton – Jun 15, 2006
Last played:
Sri Lanka Vs Australia at W.A.C.A. Ground, Perth – Western Australia – Oct 31, 2010
Lasith Malinga IPL Matches
Debut:
Mumbai Indians Vs Chennai Super Kings at Newlands, Cape Town – Apr 18, 2009
Last played:
Mumbai Indians Vs Chennai Super Kings at Dr DY Patil Sports Academy, Mumbai – Apr 25, 2010
Lasith Malinga CLT20 Matches
Debut:
Mumbai Indians Vs Highveld Lions at New Wanderers Stadium, Johannesburg – Sep 10, 2010
Last played:
Mumbai Indians Vs Royal Challengers Bangalore at Kingsmead, Durban – Sep 19, 2010