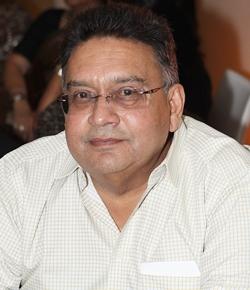 About Chirayu Amin:
Chirayu Amin is an Indian cricket administrator and businessman. He is best known as the Chairman and Commissioner of the Indian Premier League, and BCCI
Vice-President. Chirayu Amin is the Chairman and Managing Director of Alembic Ltd., a 104 year old pharmaceutical company.


Early life
Chirayu Amin was born in a business family. His father Ramanbhai Amin and grandfather Raj Mitra - Rajya Ratna Bhailalbhai Amin were trendsetters in India's pharmaceutical and glass industry. They came to Baroda from Virsad village of Kheda district. Amin is currently a member of the IPL's Governing Council and also the President of the Baroda Cricket Association.
He is chairman of the century-old pharma major Alembic, and a former president of the Federation of Indian Chambers of Commerce and Industry, a top corporate lobby group. His standing in Vadodara, a genteel university metro of Gujarat, is impeccable - apart from Alembic, his family runs a couple of the more sought-after schools. It's fair to say, though, that Amin isn't half as well known as two decades-old company products: Glycodin cough syrup and Yera glassware.
Contribution to Cricket:
His effort to streamline and professionalise cricket management has paid rich dividends for the Indian cricket. It was in his role as the president of BCA that one could see the most dramatic impact on the sport.
Under Amin's leadership, Baroda emerged as one of the most successful Ranji Trophy teams in recent times. Amin's clean track record is just what the BCCI needs. Amin could bring his managerial acumen to the game's great property. Though he is not a flamboyant showman like the suspended chief Lalit Modi, he is considered an incisive strategist who could clean the IPL muck.
Amin is not only a BCCI vice-president and president of Baroda Cricket Association but also the chairman and managing director of Alembic Pharmaceutical, one of the leading pharma companies of the country.
He made his entry into BCCI in 2004 when he replaced Gujarat Cricket Association president Narhari Amin and since then he has maintained a clean record.
Baroda's Ranji team's performance has improved significantly in his reign.